The first annual West Walker Sportsman's Banquet was an overwhelming success, with over 170 people in attendance! No one at the club anticipated such an excellent turnout for our first big event of this kind ever. Guests started arriving before 6 pm and wasted no time checking out the prizes and getting their raffle tickets.
There were prizes everywhere! Three packed tables of door prizes for each person who attended and another three tables of raffle prizes filled the main room. A cash bar, Chinese raffles, silent auctions, and games of chance raffles filled the shotgun room. It was packed.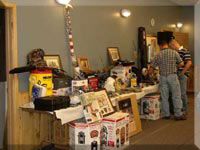 One of three door prize tables. (Click Image for larger view)
After everyone walked around the raffle tables deciding what bucket to throw their tickets into, the guests slowly made their way to a dinner table.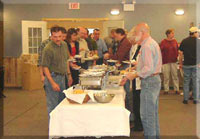 Dinner being served. (Click Image for larger view)
Dinner was served around 7 pm with a selection of barbequed ribs and chicken, salad, baked potatoes, vegetable, and cake for desert.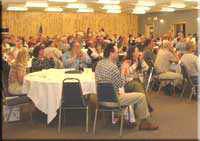 Waiting anxiously for the next raffle ticket to be drawn. (Click Image for larger view)
Once dinner was finished, the real excitement began. It took almost three non-stop hours to give out all the door prizes and award all the lucky raffle ticket holders with the selection of guns, camping equipment, optics, and more. Two beautiful prints were also generously donated to the club by Ducks Unlimited; one print for auction and the other to hang on the club house wall.

Overall, it was a great evening with everyone having a good time.

A big THANK YOU to all of you who attended and help support this fundraiser. The money raised will help fund some of the work left to be done in addition to offsetting some of the new club house construction costs. A special thanks also to all of the club members who helped out at the banquet or volunteered their time and effort in putting this event together.
If you couldn't make it this year, then be sure not to miss next year's banquet, tentatively set for March 2004.