Tri Town Conservation Club, in Grattan, was the host for the MUCC District 5 Team Trap and Skeet Shooting Event held July 16-18. West Walker Sportsman's Club was well represented at this match, competing against shooters from all over District 5. MUCC District 5 includes all of the affiliated clubs in Ottawa, Kent, Berry, and Allegan counties.

Two WWSC Teams competed in this event. One team, consisting of Club President Mark Thue, along with Ed Stone, Charlie Michels, Lyle Shepherd, and Dave Tagg, took a 1st place skeet award. While another WWSC team, consisting of Mark Walker, Tom Myers, Dick Kuk, Javon Brown, and John Strodbeck took a 1st place trap award. Javon Brown is Charlie Pruitt's grandson and he also took 1st place in Juniors as well as 1st place in high overall. Charlie is pretty proud of his grandson. Congratulations to all Team West Walker competitors for some excellent shooting.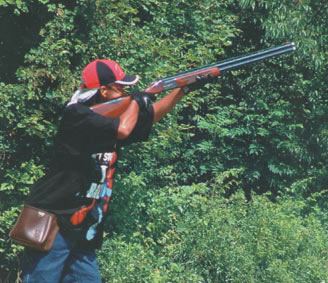 Team West Walker member, Javon Brown, in good form.