The second annual West Walker Sportsman's Banquet was held on Saturday, March 20th and was an overwhelming success. Tickets sold out about two weeks prior to the event, with many people trying to get tickets up until just before the banquet. Last year we had over 170 people in attendance and this year we had a capacity crowd of 250 people who attended.
This years event was hosted by Bob Garner, Chairman of The Natural Resources Commission and former host of the Michigan Out of Doors Television Show. A special thanks to Ed Stone for arranging to have Bob attend. Bob was outstanding.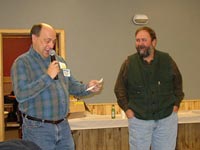 Mark Thue and host Bob Garner.
(Click image for larger view)
Although the festivities weren't supposed to start until 6:00 pm, guests started arriving around 5! Each person who attended received a nice door prize as they arrived. During the cocktail hour the guests were able to enjoy a number of games that featured some very nice prizes. Also it gave the participants an opportunity to bid on the silent auction items, purchase chances on the Chinese raffle items, and wonder around the four packed raffle tables full of prizes.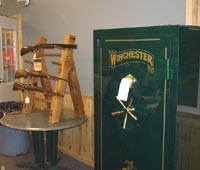 Blitz Raffle Prizes
(Click image for larger view)
A fantastic Dinner was served shortly after 7:00, catered by Damon's Restaurant, and featured their signature BBQ ribs, chicken, and pulled pork, accompanied by roasted redskin potatoes, rolls and butter, and a great coleslaw. There
was plenty to eat and no one went home hungry. The club and Damon's received a number of compliments on the food.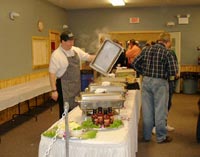 Getting ready for Dinner. (Click Image for larger view)
Once dinner was finished, the real excitement began. The anxious guests were eagerly waiting to see if they would go home with a great prize. The prizes were given out, beginning with the silent auction and Chinese raffle items intermixed with four blitz raffles and the prizes from the four big raffle tables.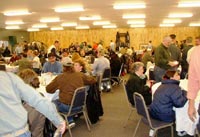 Waiting anxiously for the prizes to be given out. (Click Image for larger view)
Two hours later, when it was finished, over 25 guns and many thousands of dollars in hunting, fishing, and camping equipment were given away. After the banquet we received a large number of compliments on the variety and quality of the raffle prizes, the food and overall quality of the banquet, with many people wanting to purchase tickets for next years event before they left.

A big THANK YOU to all who attended and help support this fundraiser and especially those who donated prizes. The money raised will help fund some of the club improvements planned for this year. A BIG thanks also to all of the club members who helped out at the banquet or volunteered their time and effort in putting this years event together.
If you weren't able to make it this year, then be sure to get your tickets early for next year's banquet.